Veterinary
---
Custom implants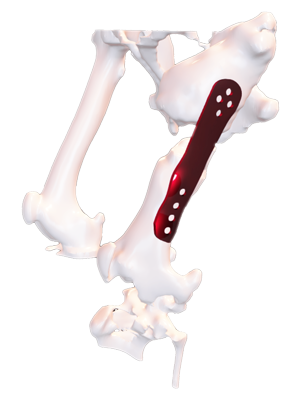 Science advances are not only for the benefit of people, animals can also be favored by all our developments. Additive manufacturing or 3D printing is also at the service of animals. Osteophoenix offers a service for those innovative specialists who wish to apply new technologies in their veterinary operating rooms. The circumstances by which an animal may need a custom titanium device are varied, among them we find:
Bone tumors. May be cranial, mandibular or in other parts of the body.
Bone fractures.
Rupture of the cranial cruciate ligament.
Bone deformations.
If something characterizes us at Osteophoenix, it is our desire for innovation and research. We can manufacture whatever you have in mind.
We also design and manufacture biomodels and surgical guides that will facilitate the planning of your surgery and considerably reduce the time in the operating room.
At Osteophoenix we have a team prepared with almost 10 years of experience in the design and manufacture of custom titanium devices. We use the most advanced technologies in the field and our processes are constantly updated by strict quality control, we have ISO 13485, ISO 9001-2018 certification and CE marking for our serial products.
Send us your case (CT scan)
---